Award Wining Nutritious Meals
We are extremely proud and excited to announce that we have received a Rito Healthy Heart Award from the Heart Foundation for the amazing things we do to promote healthy food and physical activity. We are helping our tamariki to have healthy habits and healthy hearts for life.
At AppleSeed our professionally trained in-house chef creates yummy, healthy and nutritionally balanced lunch and snacks using fresh seasonal ingredients. Our varied menu is designed for young children and is updated regularly after consultation with parents and caregivers. We have ensured when reviewing our menu that the children at AppleSeed are provided with a full range of foods and nutrients which includes food from all the four food groups: fruit and vegetables, breads and cereals, milk and milk products and lean meat and alternatives.
The menu has been designed to cater for all children and their dietary needs with vegetarian meals prepared separately.
Children with allergies or food preferences are given alternative meals, but similar to meals offered to others.
Please notify us immediately of any allergies or diet preferences for your child and we will carefully and diligently ensure your instructions will be followed.
Good hygiene habits before and during eating are strongly encouraged.
Our menu has been ratified by the NZ Healthy Heart Foundation "Fuelled 4 life" programme and is displayed on the notice board by the front door.
"AppleSeed's policies around food and play were part of the reason we picked them. We are very happy with the choices they make with food." (Heart Foundation)".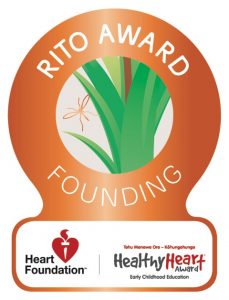 © 2016 AppleSeed Educare | Website by WebBooster and Timeshifting